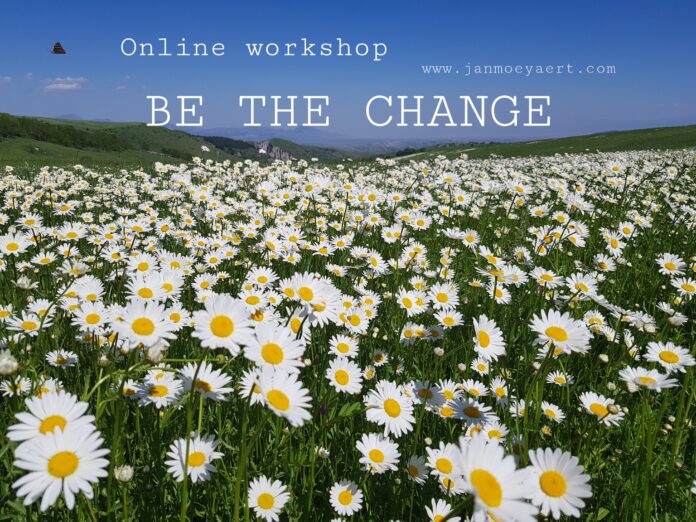 "Be the Change"
In deze tijden heeft het aankomende van oud naar nieuw meer dan enkel de komst van een nieuw jaar als onderliggend thema.
Het is op alle vlakken duidelijk dat we ook van een oud naar een nieuw tijdperk gaan in een groter geheel. De hele wereld lijkt op zijn kop te staan en het is vanuit de chaos waarin we ons ook bevinden dat het nieuwe zich vormt.
"Be The Change" is een online workshop/samenzijn waar we samen dieper duiken in wat onze plek is in deze veranderende tijden. Zowel individueel als collectief. Hoe blijven we in ons centrum? Hoe gaan we door deze tijden van oud naar nieuw? Wat hebben we te doen in deze tijden persoonlijk en collectief? Wat is onze plek? Dit zijn enkele van de vragen waarrond we werken.
We werken niet met een strak kader maar laten het ontstaan. We laten de verandering zich tonen. Wat kan je verwachten van deze sessies? Verwacht in de eerste plek het onbekende. Voel in de eerste plaats als je in je hart de roep voelt om deel te nemen. De mensen die er zullen zijn, zijn de mensen die er dienen te zijn, daar zorgt de Goddelijke voorzienigheid voor.
Samen met gelijkgestemden wandelen we het pad van oud naar nieuw zowel naar het nieuwe jaar 2022, alsook in een groter geheel naar een nieuw tijdperk. Je kan deze momenten samen zien als momenten waar verbinding zal zijn, waar richtingaanwijzers zichtbaar zullen worden, wat we te doen hebben in deze tijd … . Samen met de mensen die er dienen te zijn.
Voel je dat het resoneert en voel je dat je er bij dient te zijn?
praktisch;
4 sessies van 3 uur
wanneer? na inschrijving zal aan de deelnemers een doodle worden gestuurd voor data in de periode tussen 18 dec en 18 januari waarna we de meest geschikte data kiezen
Inschrijvingen open vanaf heden, inschrijven kan tot 14 december
(prijs 88 euro voor de 4 sessies)
Inschrijven kan via onderstaand formulier
Meer vragen contacteer me gerust.
Hartegroet vanuit Armenie,
Jan