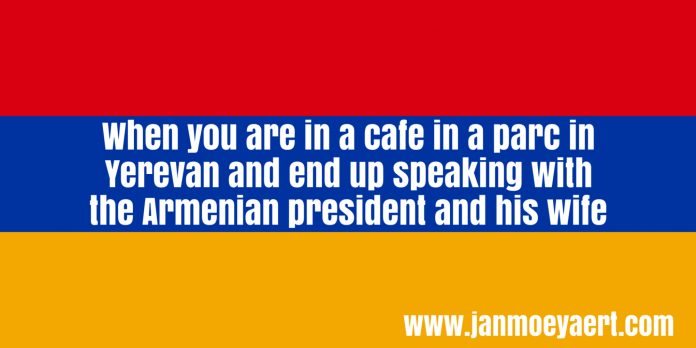 When you are sitting in a cafe in a park in Yerevan and end up speaking with the President of Armenia and his wife
Yesterday in Yerevan after coming back from my trip to Belgium and being reunited with Kristine in Armenia we are drinking something in a cafe in a park in Yerevan. We are speaking about how tired we both are from the bureaucratic system concerning the visa and the mill we are going through to be able to go together to the country I was born. Deep in my heart I hope that one day Armenians will be more free. I feel that the day will come that Armenians will be able to travel freely to Europe. A feeling I already had during the peaceful revolution in April this year in Armenia.
Suddenly Kristine comes close to me to say something after some people come sitting at a table next to us. "The president of Armenia is sitting behind you together with his wife and another couple" she whispers.
We can speak about this situation with the president I say laughing. After I address me to the man Kristine say is the president and say to him; "Excuse me sir, you speak English?, my wife told me that you are the president of Armenia". "Your wife is right" he replies with a smile.
"Can I share something?, I hope Armenian people will be more free in the future. I say. I was just speaking with my wife about the visa complexity we are facing for Armenian people to come to Europe" What follows is a modest and human conversation about life, the president who is asking who we are, what we are doing and how we met. Sharing also how he met his wife and in the meantime saying that he just came back from a trip to Germany after meeting with Merkel and other state heads in Europe. Also sharing that there will be Visa free for Armenia in the future but that it needs time.
It is in all a regular talk like you can have with all people. Only the destiny from this man was to become president of Armenia. But in all it is like a modest conversation on a nice and cute terrace in a park in yerevan. The bodyguard bringing coffee to the table and then discretely dissappear to a place more far away is the only thing that seems to can tell this is the president of Armenia. And maybe also the view of some other people on the terrace looking interested in our direction.
"Hajoghutyun" we say when we are leaving the place. "You are learning Armenian" the president asks. "Mi kitsch, a little, I am learning" i say. "Your future children should speak Armenian" he says. "Yeah, that is for sure we say, we already spoke about that" we laugh and leave.
After in the evening we share about the meeting with the parents of Kristine. It happened for a reason her father said, you can write about it. What is the possibility of meeting the President of Armenia in a cafe in a park in Yerevan. You took a picture with them? Kristine parents ask. The funny thing is that we didnt even think to make picture or selfie at that time in what seemed as a modest conversation. "Maybe the president will say one day he was sitting there with us" i say with a laugh. In the end it doesn matter we dont have picture and indeed all happens for a reason and I am feeling gratitude that the day will surely come all armenians will be free to travel. That our future children will be free to go where they want and we will joke about the day that both the president of Armenia and mom and dad forgot to take picture when sitting together in a cafe in Yerevan ?
hug
Jan