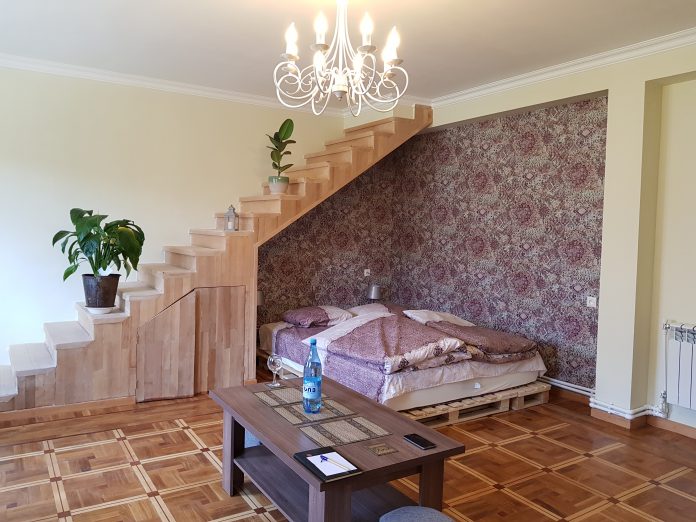 Armenië, de verborgen parel in de Kaukasus
Wil je graag Armenië bezoeken en proeven van de ziel van Armenië? Welkom om bij ons thuis te logeren in Yerevan. Ons huis is gelegen in één van de rustigste buurten van Yerevan, de hoofdstad van Armenië, weg van alle drukte van de stad. Bovendien logeer je bij Kristine en mezelf thuis en ben je zo in de mogelijkheid om van het echte Armeense leven en ziel te proeven.
Yerevan is bovendien de ideale uitvalsbasis voor een bezoek aan Armenië. Ons huis is een oase van rust aan de rand van de stad en heeft een eigen tuin met boomgaard. Naast verblijf en accommodatie in ons huis organiseren we zelf ook uitstappen. Je kan dus kiezen voor zowel overnachting als een begeleide reis met onszelf als persoonlijke gids. We bieden ook de mogelijkheid aan om alle maaltijden te voorzien. Wij zorgen bovendien ook voor wagen met chauffeur en gaan zelf als gids mee op stap indien gewenst. Een reis op maat dus.
In ons huis hebben we meerdere kamers ter beschikking en bieden accommodatie en reizen aan voor zowel individuele reizigers, koppels en kleine groepen. Neem meer contact op met ons via mail via jan.moeyaert@live of info@onderweg.one of via whatsapp 0032494850240 of 0037491198896. Boeken kan vanaf heden en je kan zelf je eigen periode kiezen. Wacht niet te lang qua timing want meerdere mensen hebben al aangegeven bij ons thuis te willen verblijven.
Daarnaast praktisch helpen wij ook bij de boekingen van vluchten. Er zijn bovendien rechtstreekse vluchten tussen Brussel en Yerevan heen en terug in de periode april-oktober.
Neem contact met ons op voor al je vragen over reizen in Armenië en al je persoonlijke vragen. Zeker is dat het een reis die je nooit zal vergeten en dat we er alles aan doen om je in contact te brengen met de ziel van Armenië
Hierbij alvast enkele sfeerbeelden van ons huis en de accommodatie.
Meer info ook in de toekomst ook via www.onderweg.one en www.janmoeyaert.com. Stuur ons gerust ook jouw e-mailadres in een mail of berichtje als je op de hoogte wenst te blijven gezien we in de toekomst ook meer zullen inzetten op communicatie via mail.
Onze eerste gasten zijn intussen reeds terug naar België vertrokken en hadden hier een fantastische tijd en maken al plannen om terug te komen.
Hartegroet en hopelijk tot in Armenië,
Voel je vrij het nieuws te verspreiden
Armenia, the hidden pearl in the Caucasus
Would you like to visit Armenia and taste the soul of Armenia? Welcome to stay at our home in Yerevan. Our house is located in one of the most quiet neighborhoods of Yerevan, the capital of Armenia, away from the busy city life. You will stay with Kristine and myself in our home and you will have the opportunity to taste the real Armenian life and soul. Yerevan is also the ideal base for visiting and exploring Armenia.
Our house is an oasis of tranquility in the outskirts of the city and has its own garden with own fruit trees. In addition to the accommodation we deliver in our house, we also organize trips ourselves. You can therefore choose for both an overnight stay and a guided trip with ourselves as a personal guide. We also offer the possibility to provide all meals during the trip.
We also arrange a car with driver and also go as a guide with you on the trips. We deliver a tailor made travel according to your desires. In our house we have several rooms available and offer accommodation and travel for individual travelers, couples and small groups.
Please contact us by mail via jan.moeyaert@live or info@onderweg.one or via whatsapp 0032494850240 or 0037491198896.
You can book from now on and you can choose your own period. Do not wait too long in terms of timing because several people have already indicated that they want to stay at our home.
In addition, we also provide practical assistance with bookings of flights. There are also direct flights between Brussels and Yerevan in the April-October period.
Contact us for all your questions about traveling in Armenia and all personal questions. It is certain that it is a journey that you will never forget and that we do everything we can to get you in touch with the real soul of Armenia
Hereby some images of our house and accommodation.
More info also in the future via www.onderweg.one and www.janmoeyaert.com.
Feel free to send us your e-mail address in an e-mail or message if you wish to be kept informed as we will also focus more on communication via e-mail in the future.
Our first guests have just left for Belgium and had a fantastic time here and are already planning to come back.
Greetings and hopefully to Armenia,
Feel free to spread the news