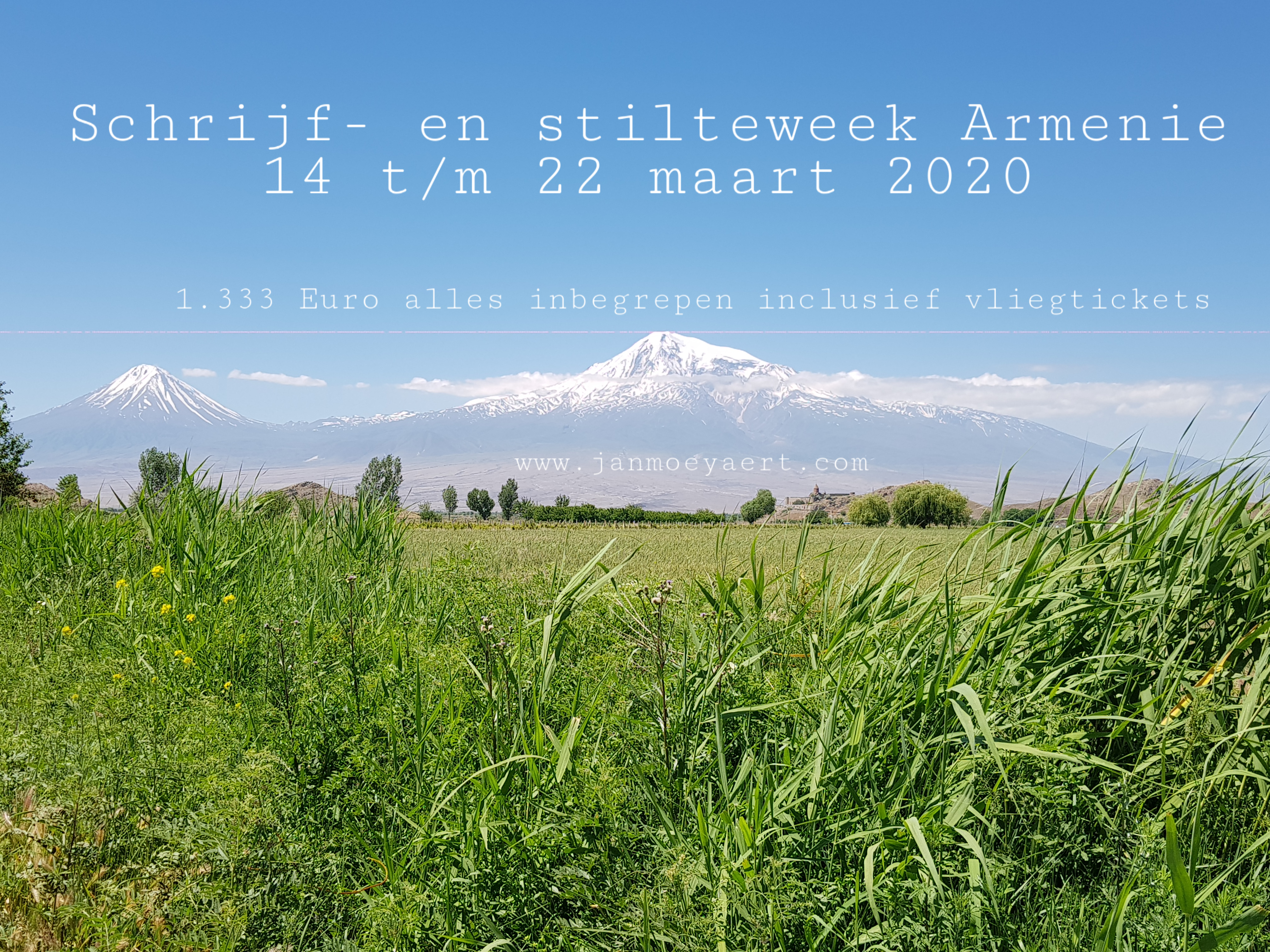 Nieuw geplande groepsreis voor de momentbeslissers aan supervoordelige prijs
Schrijf- en stilteweek Armenie Zat 14 maart t/m Zo 22 maart 2020
Heb je zin om een weekje te schrijven en je te verbinden met jezelf en de stilte in een prachtig land vol ongerepte natuur ? Plan je een boek te schrijven of heb je gewoon zin om recreatief te schrijven? In deze week ligt de focus op schrijven vanuit de stilte in jezelf en met jezelf en de natuur als inspiratiebron. Dit in combinatie met het bezoeken van Armenie en zijn krachtplekken waarin je dit prachtige land op een unieke manier zult leren kennen.
Dit is bovenal een reis voor de momentbeslissers en gaat door van zaterdag 14 maart t/m zondag 22 maart. Het is ook een ideale periode net voor de aanvang van de lente om het jaar hernieuwd in te zetten.
De prijs voor deze reis is 1.333 Euro inclusief;
– rechtstreekse vlucht Brussel – Yerevan heen en terug
– luchthaventransfer heen- en terug naar Golden Apricot B&B
– alle maaltijden
– alle overnachtingen in Golden Apricot B&B
– alle transport ter plaatse met comfortabele wagen
– volledige organisatie en omkadering reis
(onder voorbehoud beschikbaarheid en vluchtprijzen)
maw een reis waarin alles is geregeld en voorzien opdat je ten volle kan zakken in het moment. Deze reis is een absolute buitenkans ook om aan een voordelige prijs een land te bezoeken dat momenteel wereldwijd op vele to do lijstjes komt te staan van reizigers en reisorganisaties
praktisch voor de reis; reizen in Armenie is veilig en staat op de lijst van meest veilige landen ter wereld om te reizen en er is geen visum nodig voor reizen naar Armenie, enkel een internationaal paspoort dat minstens 6 maanden geldig is bij aankomst
Wil je er graag bij zijn?
Je kan deze reis vanaf vandaag boeken en dit tot en met aanstaande vrijdag. Daarna is inschrijving niet meer mogelijk. Je kan me een berichtje sturen via info@janmoeyaert.com als je er graag bij wil zijn alsook voor eventuele vragen over de reis.
Hartegroet en misschien tot gauw in Armenie,
Jan