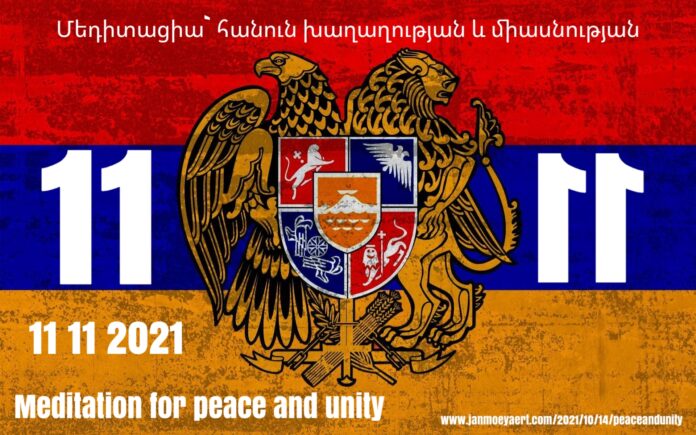 11 11 2021
Meditation for peace and unity
On 11 November thousands of people will do a collective meditation in a lot of countries all over the world. For peace and unity and for the well being of human kind and the earth.
I feel the call to help to facilitate something in Armenia and I also feel a call about what it can mean for Armenia.
But first of all practically. The concept is very simple. On 11 November you can take one hour to meditate in silence preferably around 11 o'clock or during a moment which feels comfortable for you. In a place which feels comfortable. You can also, drum, sing, play music, whatever feels good … Alone or with others.
A lot of friends that I know will participate that day from a lot of different places and countries in the world.
As said before I also feel that there is a message for Armenia which I will share here also;
On 11 November it will be almost day on day one year ago that the war between Armenia and Azerbeidzjan came to an end. To be correct it will be the first new day after one full year past as the war ended on 10 November. So at some point it is a new beginning. But there is still need for healing.
Thousands of our brothers, sons, fathers lost their lives in this bloody war. Most of them were just 18 till 21 years old.
Thousands of others are disabled, lost legs or arms and have deep wounds in their souls. Many others are still missing till this days. The whole Armenian nation was and is still deeply hurt by this events. Everybody knows somebody who passed away or was affected by this bloody war. The wound is present in every family.
I feel this day can be a good day also to put the souls from our beloved ones in the light. To surround them with light. To visualize them in the light. To surround Armenia with light. To surround the whole Caucasian region with light. To visualize a light that penetrates the whole world and universe.
To see the light, feel the light, to breathe the light … Both in and outside ourselves. To not search for an enemy but to be only in light. And so, to bring healing. To heal the wounds of ourselves and the wounds of our beloved ones.
This is the call I feel I need to share when it comes to the role from Armenia.
I also feel that we can ask help for that from our beloved mountains. To connect with our beloved Ararat and with all our other beloved mountains. As we are our mountains. And to connect next to that also with the water and all other elements. To see and feel the unity in all.
From an astrological point of view 11 November is also an important date I feel. It is the gate of the Scorpion or the gate from death and rebirth. So it also a gate through which we can guide the souls of our beloved ones into the light.
Do you want to join? The more people who will connect the more powerfull it will be.
I also created a private facebook group where we can connect and share our experiences. A group where we can connect and share in the weeks leading to 11 November.
Feel free to share with others who can feel the call. Feel free to share with organizations, groups, … As this is about all of us. Together we are strong.
From the heart,
Jan