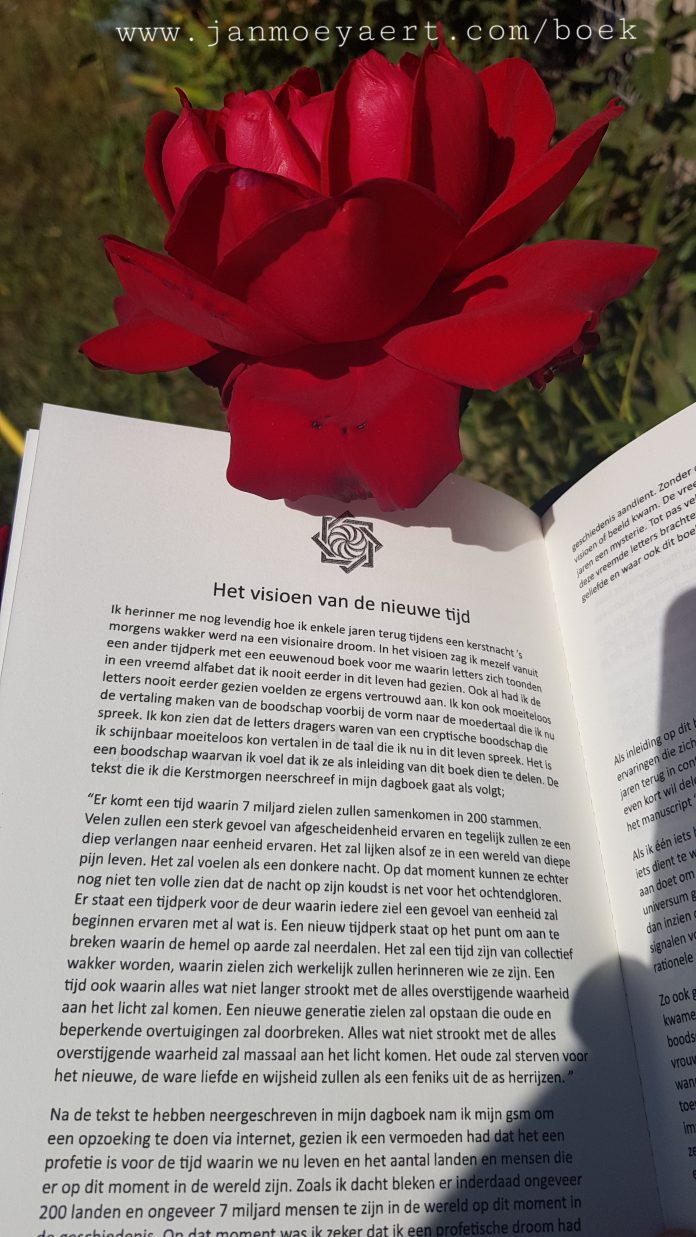 Het boek der liefde en wijsheid als een sleutel voor de nieuwe tijd
Enkele jaren terug had ik een visioen van een nieuwe tijd die staat aan te breken ,een visioen dat ook als inleiding in mijn boek "het boek der liefde en wijsheid" staat beschreven en dat je via de bijgevoegde foto als bijgevoegd fragment kan lezen
Wat is nu het "boek der liefde en wijsheid"?
Het "boek der liefde en wijsheid" in zijn geheel is een bundeling mystieke teksten die sleutels tot de nieuwe tijd bevatten en een boek dat is ontstaan nadat het lot me naar Armenië bracht. Zonder zaken te willen labelen of teveel in concepten te willen gieten heb ik het gevoel dat ik het manuscript voorbij tijd en ruimte en doorheen verschillende levens heb meegedragen. Om het manuscript nu nu in dit boek opnieuw uit te dragen. Als sleutels voor iedere ziel die zich wil connecteren met zijn of haar ware zelf en de bron.
Telkens opnieuw krijg ik opnieuw de feedback van mensen dat de teksten in het boek heel bijzonder en krachtig zijn. Teksten die uitnodigen om telkens opnieuw te lezen. Gezien het een relatief klein boekje betreft met zijn 60 paginas heb ik nog eens ingevoeld op de prijs van het boek. Ik wil het boek immers ook graag zo toegankelijk mogelijk aanbieden. Daarnaast kunnen bepaalde zaken inherent niet in geld worden uitgedrukt. Daarnaast heb ik met hart en ziel dit boek vormgegeven. Na invoelen heb ik het gevoel dat ik het boek op vandaag voor 13 euro kan en wil aanbieden. Wat het boek uitdraagt gaat in essentie echter voorbij aan geld. Het gaat over wat het brengt voor de lezer. Wat lezers vinden van het boek kan je in de recensies iets verderop lezen.
Daarnaast voel ik ook dat de mensen die het boek bij lancering in juni hebben aangeschaft aan de initiele verkoopprijs bij deze uitzonderlijk een extra exemplaar kunnen aanschaffen voor zichzelf of om aan een geliefde te geven en dit aan een prijs van 7 euro. Dit als blijk van vertrouwen om het boek als eersten aan te hebben gekocht.
Zodus praktisch, wens je een exemplaar aan te schaffen; Je kan het boek bestellen door te bestellen via bijgevoegde link en het geld over te schrijven op rekening Triodos Bank België BE60 5230 8080 0570 op naam van Jan Moeyaert met vermelding "Boek der liefde en wijsheid". (Bic codeTriodos Bank België is TRIOBEBB). De verzending volgt na bestelling en betaling. Vermeld in de betalingsmededeling je naam alsook de adres voor verzending van het boek
Omdat het perspectief van de lezer soms meer zegt over het boek hierbij ook enkele reacties die ik nadien van mensen ontving die het boek hebben besteld en gelezen
– Dag Jan, Ik heb net je boekje met veel aandacht uit gelezen of beter gezegd je manuscript over de liefde en de wijsheid. Een zeer inspirerend boekje Jan! Ik heb zelfs het gevoel dat je het boekje niet kán uitlezen, het laat zich opnieuw lezen, en opnieuw…en op opnieuw… . Het is zó diepzinnig, spiritueel en filosofisch geschreven en toch bevattelijk voor iedereen. Het voelt alsof je de pionier bent van 'het universele hart' alsook de drager van 'de goddelijke ziel', dit voorbij elke religie of levensbeschouwing. Hoewel reïncarnatie en visioenen mij vreemd zijn meen ik toch de boodschap begrepen te hebben van je profetieën. Ik hou van je gevleugelde woorden en doorleefde metaforen. Dat smaakt naar méér. Dus asjeblieft Jan, blijf schrijven. Dat is wat je ongetwijfeld het beste kan!
– In één adem uitgelezen, een prachtig pareltje
– Heb het boek vandaag in mijn brievenbus gevonden, gelijk beginnen lezen en ontroerd door de mooie teksten Dankjewel Jan …
Daarnaast voor de toekomst, gezien ik sinds de lancering nog niet in Belgie of Nederland ben geweest heb ik ook nog geen lezing of boekvoorstelling kunnen geven. Dat kan nog komen wanneer ik nog eens terug ben. Wil je graag een lezing bij jou laten doorgaan of een lezing over Armenie en het werk dat we hier doen stuur dan gerust ook een berichtje
Bestel bij deze alvast ook jouw exemplaar van het boek der liefde en wijsheid
hartegroet vanuit Armenie,
Jan