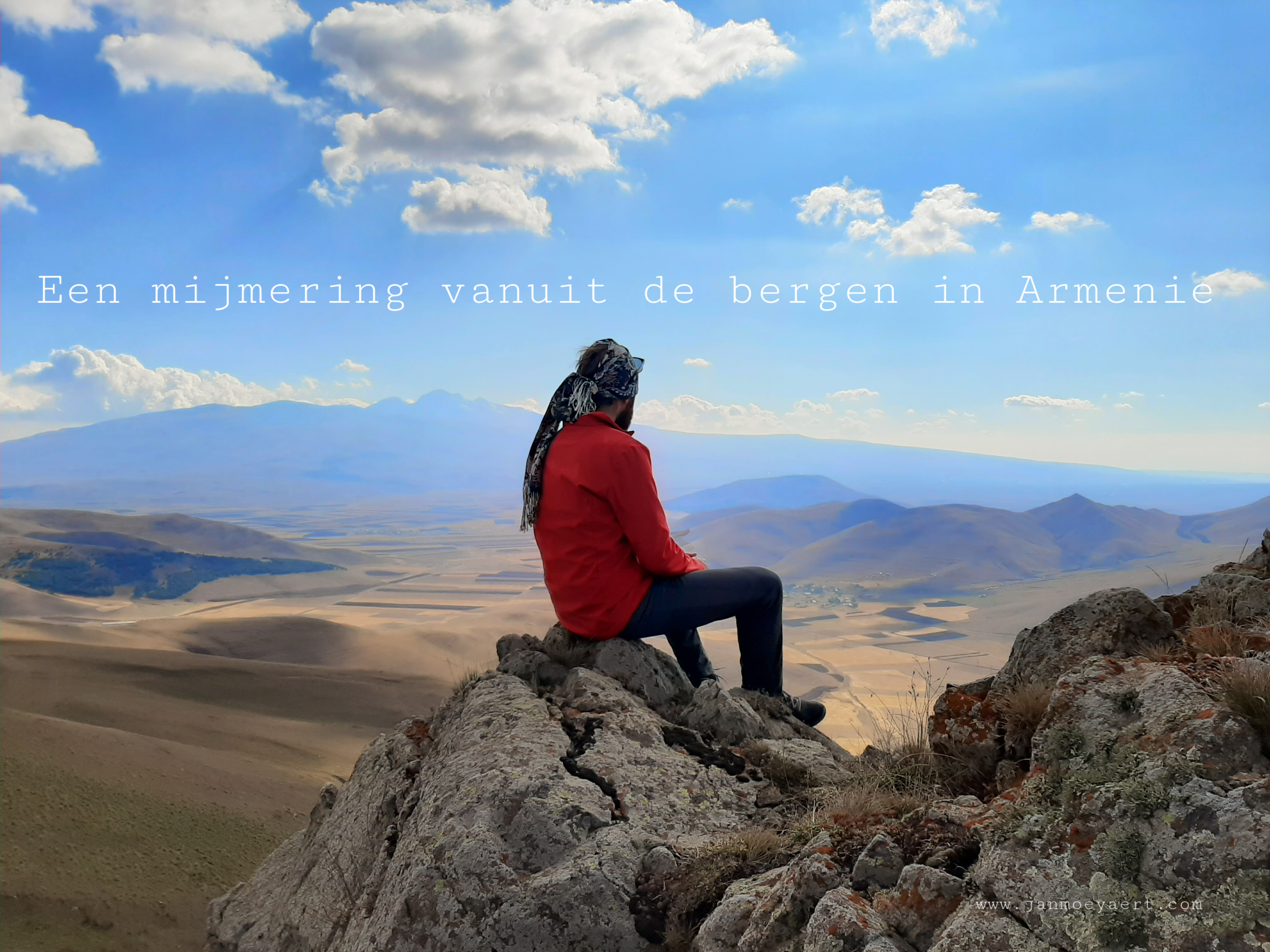 Mijmering vanuit de Armeense bergen
Lieve vrienden,
Bij deze een berichtje dat als heel belangrijk voelt. Daarom ook even de uitnodiging voor je aandacht en tijd en hulp. Ik schrijf het bij deze enkel in mijn moedertaal, de taal waar ik mee ben opgegroeid. Ik heb geen woorden om te beschrijven wat ik momenteel voel. Bij deze toch een poging om te verwoorden wat er op dit moment door me heen gaat.
Gisteren vroeg in de morgen vertrokken we met een groep Armeense mensen met de bus voor een hiking trip in de bergen. De sfeer was goed en als broeders en zusters waren we klaar voor een fijne dag. Rond een uur of negen lokale Armeense tijd sijpelen echter de berichten echter binnen dat Azerbeidzjan Artsakh (beter gekend als Nagorno Karabach) heeft aangevallen.
De sfeer in de bus slaat volledig om. Iedereen is diep geraakt door wat zich aandient. Tal van emoties steken de kop. Een jonge vrouw naast me weent tijdens de terugreis op de bus. Er speelt en leeft vanalles. Ook zelf voel ik heel wat door me heen gaan. Ik voel de pijn en verdriet van het land. Ik voel bezorgdheid voor mijn familie hier en vele vrienden en voor Armenie. Die dag sneuvelen meerdere mensen. Zowel burgers als militairen. Veelal jonge mannen komen te sterven. Jongens van rond de twintig jaar in de fleur van hun leven. Veel te vroeg uit dit leven weggeplukt door een virus dat misschien wel de grootste pandemie is in de wereld, nl. oorlog. Er is een algemene mobilisatie in het land waarbij alle mannen in het land worden opgeroepen om het land te verdedigen.
De hele dag loop ik rond in de Armeense bergen met een gemengd gevoel. Wat is mijn taak? Wat heb ik te doen? Waar kan ik helpen? Er speelt zoveel door mij en doorheen iedereen in Armenië op dit moment. Ik leef mee met het land dat ergens als mijn thuisland voelt ook al ben ik in België geboren en opgegroeid. Ook al heb ik vele vrienden en familie in België en Nederland en andere delen van de wereld. Al geruime tijd kan ik hen niet bezoeken. Ook de geboorte van mijn petekind heb ik niet kunnen bijwonen, de dochter van mijn broer heb ik nog niet in mijn armen kunnen sluiten hoe graag ik dat ook zou willen. Hoe graag ik van tijd tot tijd eens vrienden en familie zou bezoeken. Toch klaag ik niet. Ik ben ook dankbaar hier te zijn. Ik mag er ook niet aan denken dat ik bv de voorbije maanden vast zou hebben komen te zitten in bv een bezoek aan België zonder mijn geliefde. Hier in Armenië heb ik mijn geliefde, familie en vele vrienden. Ik ben dankbaar dat ik hier woon. Het is niet te beschrijven wat er op dit moment doorheen Armenië gaat. Want voor de wereld betreft dit grotendeels een oorlog die vergeten is. Armenië een dapper land met prachtige zielen en fijne mensen dat een geschiedenis kent van eeuwen van vervolging.
Wat heb ik te doen? Toen ik vanmorgen wakker werd was de vraag niet verdwenen. Opnieuw sijpelen berichten binnen dat gedurende de nacht opnieuw vele mensen zijn gestorven. Ik ben geen voorstander van geweld of oorlog. Maar wat doe je als het land dat je zo dierbaar is en waar je dierbaren wonen onder vuur komt te liggen? Wat is goed en fout in dit gegeven? Ik stel me de beelden voor wat als gewapende soldaten voor je deur staan. Wat doet je dan? Open je dan de deur en zeg je schiet me maar neer? Ik weet het niet in dit geval wat goed of fout is. En dit zijn situaties die zich aandienen. Wat doe je dan als je leven in gevaar is? Ik ken ook de verhalen van de regio waar Kristine, mijn geliefde, is geboren in de regio van Tavush in Armenië waar Azerbeidzjan in juli dit jaar een aanval pleegde (nota bene niet in betwist gebied). Hoe mensen 's morgens vroeg het balkon van hun woning betraden en een kogel verschillende levens vroegtijdig beëindigde(in de jaren '90).
Ergens leef ik ook ergens in een omgekeerde wereld. Er zijn hier in Armenië zo goed als geen Vlamingen. Bij uitbreiding weinig Europeanen in het algemeen. Ik leef in een land waar gedurende de voorbije decennia en eeuwen vele mensen zijn gevlucht. Van de naar schatting 11 miljoen Armeniërs in de wereld wonen er op vandaag slechts ongeveer 3 miljoen in Armenië. Een land waar emigratie de standaard was gedurende decennia. Ongeveer 30.000 Armeniërs wonen op vandaag ook in België.
In een wereld waarin mensen massaal vluchten vanuit het Oosten en Midden-Oosten naar het Westen heb ik als een van de weinigen een omgekeerde beweging gemaakt. Een persoonlijke keuze die er eigenlijk geen was omdat ik in mijn hart voelde dat ik op tocht naar het Oosten diende te gaan in de lente van 2018 zonder plan en zonder te weten wat het zou brengen. Het diende zich aan zoals het kwam. Ik werd verliefd in Armenië en huwde hier met mijn geliefde en Armenië is op alle gebieden thuiskomen ook al had ik dit enkele jaren terug nooit kunnen voorzien. Dat is de magie van het leven voel ik. Het leven overkomt je.
Het leven is echter niet altijd niet rozengeur en maneschijn. Wat heb ik hier nu te doen in die situatie? Ik voel dat ik mijn verhaal wil delen. Het verhaal van Armenië en zijn mensen. De verhalen van de situatie hier. Gezien ik hier zelf woon ken ik de verhalen ook. Maar ik kan dit uiteraard niet alleen. Vandaar ook deze vraag tot hulp. Ik voel dat het belangrijk is de ervaringen te delen. Omdat er in het Westen weinig of geen ruchtbaarheid is omtrent dit conflict en weinigen de situatie kennen. Terwijl het uitermate belangrijk is dat het zichtbaar is. Enkele weken terug liet ik ook al iets weten over de situatie hier. Nu is het echter belangrijker dan ooit. Ik wil je bij deze dan ook uitnodigen tot hulp.
Ken je journalisten, mensen die verbonden zijn aan de media of mensen die kunnen helpen om het verhaal zichtbaar te maken. Wil je hen dan op de hoogte brengen? Ik ben bereid om mijn verhaal hier in Armenië te doen. Voorbij verhalen van goed en kwaad. Het voelt ontzettend belangrijk dat er internationale aandacht is. Want laten we ook niet vergeten dat rond de periode van de eerste wereldoorlog meer dan een miljoen Armeniërs werden afgeslacht terwijl de hele wereld toen wegkeek en niet ingreep. Net zoals dat bij vele conflicten in de wereld nog steeds zo is. Vluchtelingen die aan de deur kloppen. Er zit een verhaal achter. Laten we ook niet vergeten dat onze voorouders in bv Belgie ook ooit dienden te vluchten in de periode van de wereldoorlog.
Aangezien ik de omgekeerde beweging heb gemaakt voel ik dat ik van hieruit een verhaal te vertellen heb. Ook gezien ik hier zelf als één van de weinige geboren Vlamingen woon. Het is het minste wat ik kan doen.
Dus bij deze voel je vrij om te delen en daarnaast wil ik ook iedereen vragen als dat goed voelt om even af te stemmen op dit conflict en het te omringen met liefde.
Hartegroet vanuit Armenië,
Jan