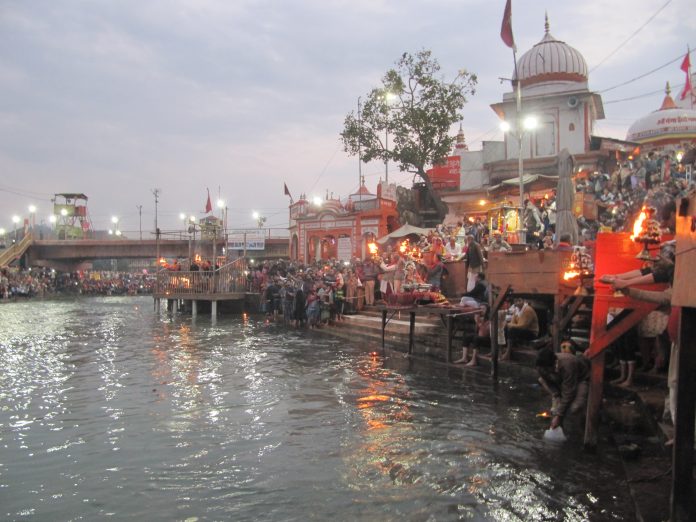 Mystical Haridwar
Yesterday i arrived in Haridwar after taking the night train from Jaipur to Haridwar. The first thing that i did was taking a ritual bad in the river Ganges in the Gath of the hotel where i am staying. The water of the Ganges is cold here as it is still winter time here in the North. But the coldness of the water made me feel like reborn immediately after the long travel with little sleep.
During the evening In Haridwar i attend the daily sunset river ritual at Harki Pauri near the Ganges. Each evening at sunset priests perform Ganga Aarti here, when lights are set on the water to drift downstream. Many people come together on both the banks of the river Ganges to sing prayers. The priests hold large fire bowls in their hands, the gongs in the temples at the Ghat start ringing and everybody is singing. People put Diyas on the Ganges as a symbol of hope and wishes during the ceremony. The Diyas which are put on the water are made with flowers and candle fires. A lot of ritual offers are made to the water. Other people take ritual baths during the ceremony.
It was a mystical experience to attend this kind of ceremony. The serenity of everything has something holy and divine. It is a nice experience to attend this kind of rituals. For the people here the water of the Ganges is holy. The Ganges which flows through the center of Haridwar also streams throught the heart of the people here. People come to this place for the rituals that take place here and also to take some water of the holy Ganges with them. The water is sometimes kept for a long time and some people use to drink it just before they are leaving this world a man told me. In each kind of way this is a special spot in Haridwar which is a very important pilgrimage places for Hindus.
After this experience i am heading further north to Rishikesh where i will probably go to a yoga ashram for some inner silence and retreat. Time for an inner journey.
here you have a link to my youtubechannel where you can find a movie from the ceremony
and also some pictures of the ceremony